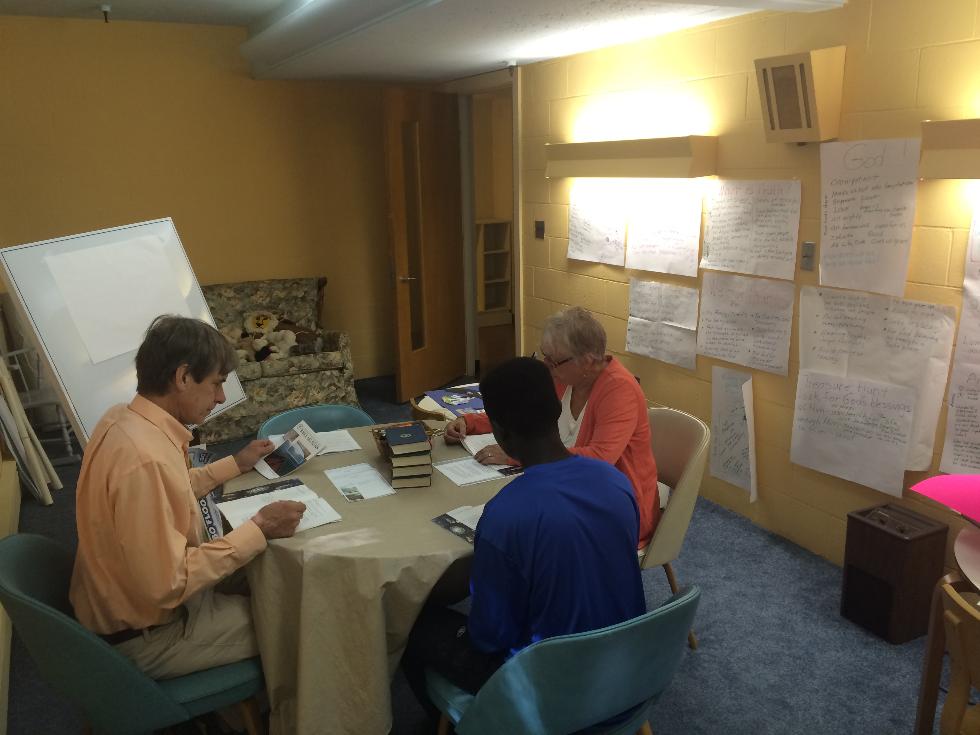 Welcome! Are you looking for a place to learn more about God and just how much He loves you and what that means in day to day living? Come join us on Sunday mornings from 10:00 am to 11:00 am in our Sunday School. We have classes for all students under the age of 20 including kids, youth, and teens. There also is a nursery provided for infants while moms and dads are attending church.
What does Sunday School look like?
First, the superintendent calls everyone together to start Sunday School. Then there's singing and a chance to focus as a group on the theme of the week's Bible Lesson. Everyone is invited to read together, pray together silently, and then say the Lord's Prayer out loud.
Next, students are divided into classes—which may happen in various ways depending on the needs of the students. Class time is spent differently in every class and on every Sunday. Teachers come prepared but are flexible and adjust to the needs of students each week. It's a time for questions, answers, study, learning, practice, and healing.
When class time is over, everyone gathers together again for another hymn and the Scientific Statement of Being from Science and Health with Key to the Scriptures by Mary Baker Eddy. That's the end of that week's Sunday School session, but many teachers and students are in touch with one another during the week.
What our teen class says about Sunday School:
We have fun learning Bible stories and how they apply to our lives today helping us to solve problems at school and at home.
We learn how to pray and how to find the truth showing what is good and right.
We learn how to open our hearts to be good people and how to treat others.
We learn how God blesses us and to be grateful for the good we are provided.
We learn seven names for God (Principle, Mind, Soul, Spirit, Life, Truth and Love). This helps us understand God and how we express Him.
What is the Sunday School based on?
As part of a worldwide organization of Christian Science our Sunday School is based on Article XX of the Church Manual of The First Church of Christ Scientist, in Boston, Massachusetts.
The Sunday School. Section 1
Pupils may be received in the Sunday School classes of any Church of Christ, Scientist, up to the age of twenty years, and by transfer from another Church of Christ, Scientist, up to that age, but no pupil shall remain in the Sunday School of any Church of Christ, Scientist, after reaching the age of twenty. None except the officers, teachers, and pupils should attend the Sunday School exercises.
Teaching the Children. Section 2
The Sabbath School children shall be taught the Scriptures, and they shall be instructed according to their understanding or ability to grasp the simpler meanings of the divine Principle that they are taught.
Subject for Lessons. Section 3
The first lessons of the children should be the Ten Commandments (Exodus 20:3–17), The Lord's Prayer (Matt 6:9–13), and its Spiritual Interpretation by Mary Baker Eddy, Sermon on the Mount (Matt. 5:3–12). The next lessons consist of such questions and answers as are adapted to a juvenile class, and may be found in the Christian Science Quarterly Lessons, read in Church services. The instruction given by the children's teachers must not deviate from the absolute Christian Science contained in their textbook.